Industries
Advanced Cold Chain Solution
Advanced Cold Chain Solution
We have developed a super-advanced freshness technology for fresh products, which we have launched in 2021.
Exploring the potential of electricity, the technology is based on the fact that food does not freeze even at sub-zero temperatures.
The area of food logistics is a struggle against diminishing value and shelf life, and this technology will revolutionise it.
We manufacture and sell equipment with several patents to create a cold chain that allows fresh products to be delivered in optimal conditions from any producer to any consumer, regardless of location."
The value we provide
Food Loss Reduction

"A large amount of food is discarded due to deterioration of freshness and loss of value before it reaches the consumer from the producer.
There is also a huge amount of food that is discarded because it cannot be shipped due to overproduction or overharvesting.
We can solve this problem with the latest technology. Please take part of experiencing the excitement of creating new value as a product and extending its shelf life."

Reduction of power consumption and Co2

"Items that can't be transported refrigerated are frozen, and items with short freshness periods are flown in.
That has been the conventional wisdom.
Our technology expands the possibility of transporting frozen products by refrigeration, and by giving the option of transporting them by ship instead of by air, we can greatly contribute to reducing the power consumption to maintain refrigeration and the Co2 emitted during transportation."

Transport cost reduction

"Shipping is said to cost about 1/70 of the cost of air transport when compared to air transport.
We are expanding the possibilities of shipping by providing technology that can maintain the value of perishable goods for a long time.
This method reduces the costs for shippers and also helps consumers to get value as reasonable price."

Making the impossible possible

"There are many foods in the world that have a short shelf life and cannot be frozen. They cannot be transported for long periods of time and therefore can only be supplied to a small trade area.
We can extend the shelf life of these products and help producers to expand their business by using our advanced refrigeration technology.
Fresh salmon from Scandinavia can be transported by sea to Asia under refrigeration and consumed one month after the catch without being grilled. That is the kind of world we are aiming for."
Our technology can be applied for the products below.
fruit and vegetables

Fresh fish

Meat

Medical products

Fresh flowers

Chemicals
OUR CUSTOMER
Potetial Customers for our cold-chain solution.
Original
Producers

Shippers

Shipping
companies

Warehouses

Freight
forwarder

Retailer
Refrigeration solutions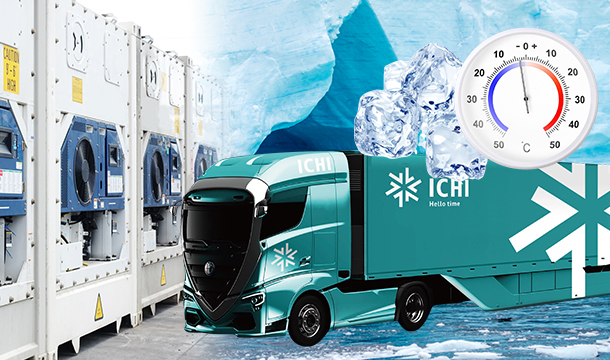 This technology that greatly reduces the increase in live bacteria counts, significantly inhibits the growth of bacteria and greatly breaks through the limitations of conventional refrigerated storage.
It is possible to shift from freezing to refrigeration and from air transport to shipping, which can make a significant contribution to reducing food losses, improving product value, reducing power consumption and reducing CO2 emissions.
Our product range includes shipping containers, commercial refrigerators, refrigerated warehouses and refrigerated vehicles."
Frozen solutions
"Our unique technology refines the ice into a paste, providing the fastest level of instant freezing compared to competitors' products.
This technology, which is by far more energy efficient than conventional flash freezing, is mainly effective for fish and meat, and you will notice a clear difference in taste after thawing."